Here at Garage Grown Gear we spend a lot of time scouting for innovative, high-performing and wildly cool outdoor gear. We see a lot of companies making very similar equipment, but every now and then, we experience a "wow" moment, inspired by truly novel outdoor gear. We love to applaud those in the outdoor industry who are thinking outside the box and showing some serious creativity and personality.
Pat's Backcountry Beverages
Yep, that's right, someone has finally figured out how to reasonably bring beer into the backcountry through brew concentrates and a carbonator bottle. Pat's Backcountry Beverages, based in Talkeetna, Alaska, currently offers Pail Rail and Black Hops brew concentrates. A 4 pack costs $9.99 and the carbonator bottle is $29.95. You can also purchase non-alcoholic soda concentrates. Is there anyone out there who's given this mighty new beverage system a try? If so, we'd love to hear your thoughts on taste and functionality. Leave us a comment below.
Boilerwerks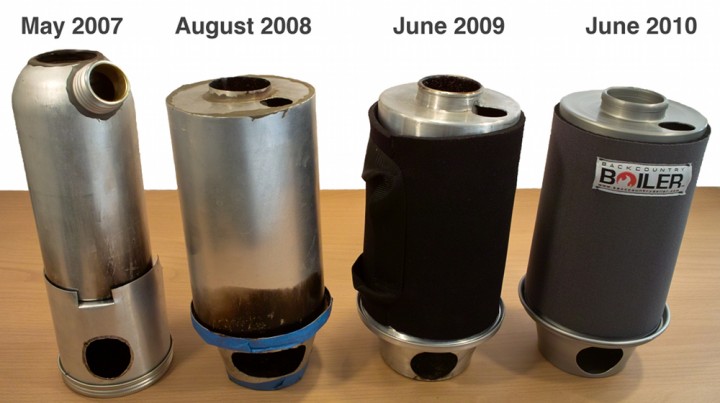 The evolution of Boilerwerks' Backcountry Boiler is an awesome story of garage grown ingenuity. Founder Devin Montgomery designed it in Google SketchUp, learned how to make its components from a PDF, a couple DVDs and Youtube, and prototyped it on a lathe on his back porch. The Backcountry Boiler is the first ever lightweight chimney kettle. It weighs a mere half pound and is roughly the size of a wide-mouthed water bottle. Using any type of fuel you can find in the backcountry (twigs, dried leaves, etc.), a skilled user can boil 2 cups of water in less than 5 minutes. Yep, that's right, with this baby you can ditch heavy, bulky gas fuels! Can I get a Hallelujah? Or better still, can I get my hands on one?
Shearwater Webbed Paddles
These compact, collapsible paddles were inspired by the webbed feet of swimming birds. Weighing between 1 and 2 pounds, Shearwater Webbed Paddles offers both a canoe and kayak paddle, as well as a version that can convert between the two sports and also works for stand-up paddle boarding. They also function great as easy-to-stow backup paddles for motorized boats. Founder Chad Townsend is as an environmental planner for the town of Banff in Canada, and runs Shearwater as a creative outlet. "I like the idea of being able to build them custom for different people's height and need," he said.
Skhoop
Born in Scandinavia (the North American headquarters is in Alaska), Skhoop makes several styles of women's clothing, but most notably insulated skirts. I have yet to try one out myself, but hopefully that will all change soon, as my husband was just informed about Skhoop's Valentine's Day Sale on Port Wine Skirts. Skhoop was the original creator of down skirts, but there are also now options available from Ruby Jupe, Mont-Bell, Horny Toad, and Mountain Hardware. Here's what some friends are saying about insulated skirts:
"I have a down skirt from Skhoop in Alaska. I kick myself every time I forget to pack it on a trip. My butt is always cold. This is the only thing that has worked to keep it warm. I'm already wearing long underwear and good pants, and still get cold legs." – Tanya Koob with www.rockiesfamilyadventures.com
"They definitely keep you warm. I wore one in Zion back in Nov with just tights and I stayed warm. It was 30 degrees and I was surprised I didn't get cold. I've never worn mine with pants, just fleece tights. I can only imagine how toasty you would be." – Melissa Edge with www.adventuretykes.com
"I just added the rain Skhoop to my collection and couldn't be happier. I did just see that [Skhoop] came out with a softshell version too. Must get rid of some 'real' skirts as I don't wear those half as often!" – Lia Keller with www.akskedaddle.com
Panda Poles
Love the classic, old-school look? Then Panda Poles, which are made of bamboo, are perfect for you. Of course, you could also go new school by customizing your poles with bight pink, green or violet handles. But according to the manifesto on the company's website, these poles are much less about the look, and much more about high performance and environmental sustainability. They're handcrafted in the Wasatch Mountains by a small team of avid skiers who want to change the way we consume. The reason to think seriously about cruising the slopes with bamboo is best described by Panda Poles:
"Our bamboo is grown without pesticides, herbicides, or fertilizers and because it is a grass, it does not die when it is cut.  Its roots stabilize eroding soils and hold twice as much water in the water table.  Bamboo produces 35% more oxygen than an equivalent stand of trees, and absorbs almost twice as much CO2.  Our bamboo has a higher tensile strength than steel or aluminum, a greater compressive strength than some concrete, and better strength to weight ratio than graphite. And even with such strength and durability, it is still a 100% compostable product."
Muddy Munchkins
New to the scene, Muddy Munchkins' signature product is a waterproof gaiter attached to a comfortable, flexible kid's shoes. Simple, yet brilliant, in this mom's opinion. Here come many happy days of splashing in puddles, wading through rivers and generally mucking about, without a laundry nightmare afterward. A huge added bonus is that they're lightweight and pack down super small. Muddy Munchkins won't be on the market until this summer, but I got a first-hand look at the shoes during Outdoor Retailer Winter Market. Founded by wife/mom Suzanne Solsona and husband/dad Javier Solsona, this is a company that was born from this outdoor family's own need and believes deeply in the benefits for kids of sunshine, dirt and water. Amen to that.
Power Practical
Charging an electronic device while camping can be as easy as boiling water with the Power Practical PowerPot. Invented by a couple of college kids, and launched by a successful Kickstarter campaign, this company is now entering the big leagues backed by investment capital and some solid recognition, most recently the Editor's Choice Snow Award from Backpacker Magazine.
How does this clever device work? Here's the explanation for PowerPot's website: "Thermoelectric generators take a temperature difference and convert it into electricity. They need one side to be cold and the other to be hot. The greater the difference in temperature between hot and cold, the greater the power output. The PowerPot utilizes a temperature difference that is present when cooking food. The difference in temp between the flame and the water in the pot allows it to create electricity."
Beard Beanie
Ridiculous? Yes. But in a way that's Beard Beanie's charm. We're all looking for ways to make a statement and stand out from the crowd … and, well, this does the trick. Beard Beanies come in a variety of hat styles and each beard is hand crocheted. This is a family company with the garage grown roots we love to celebrate. The very first Beard Beanie was given away in 2009 at a Christmas party as white elephant gift. Then a few more were given to friends. Before long word spread and a business was born.
Supai Adventure Gear
At just 1.5 pounds and the size of a wide-mouthed water bottle when rolled up, the Supai Adventure Gear packraft is a seriously cool, seriously compact boat. This flat-water packraft is particularly well-suited to descending slot canyons. Store it in your backpack as you repel, scramble and explore remote formations. Then, when you reach a river junction, use it to float to a suitable place to hike out. Supai also sells a lightweight, breakdown paddle.
Dirty Girl Gaiters
Dirty Girl Gaiters is a company with style, personality and flare. It might depend on your mood, or how far you are into a trail race, as to whether you deem the flashy, brightly colored patterns on the gaiters inspiring or obnoxious. But whether you choose the pattern "Hot to Trot Purple," "Iron Butterfly" or "Lime Gaiterade Hurl," these ankle-high gaiters are actually super functional. I've owned a couple of pairs over the years. They're very effective at keeping gravel, sticks and snow out of your running shoes and light hiking boots. This in turn prevents annoying stops and even more annoying blisters. Don't worry guys, despite the company's name, these aren't just for ladies. Many males have donned these gaiters. If you scroll all the way to the bottom of the store, it's possible to pick up a pair in mundane black.
Hey readers, have you used any of this novel outdoor gear? If so, we'd love to hear what you think of it? If not, which company/ piece of equipment do you find most intriguing? Leave us a comment below. And don't forget to stay in the loop by signing up for our newsletter!